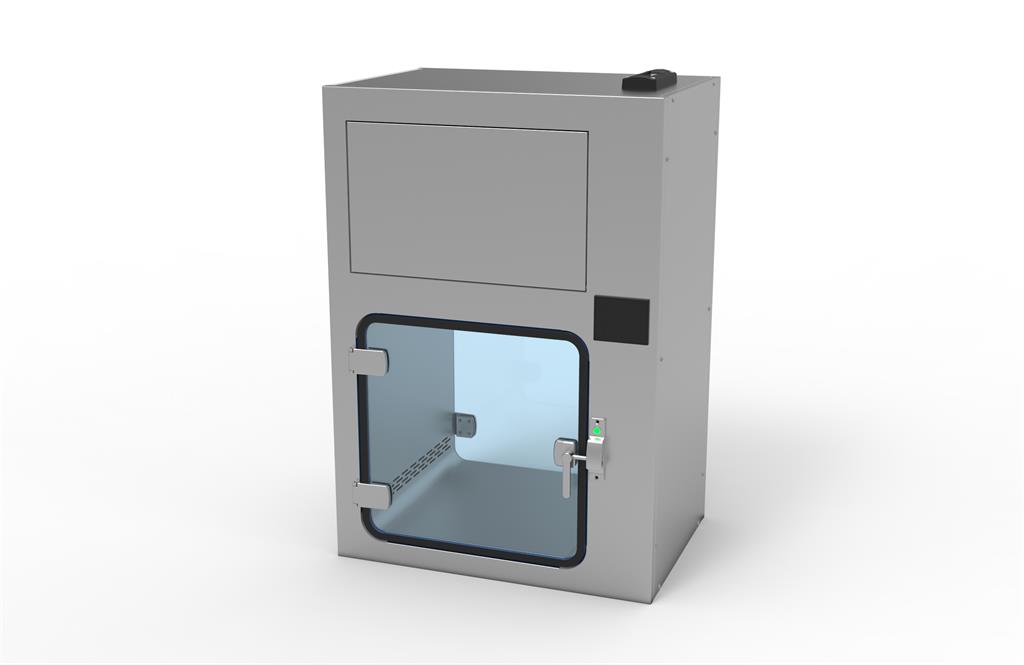 The pharmaceutical industry constantly monitors and sets the highest world regulations in order to improve technological production processes. Klimaoprema has thus developed a
new passbox series
to respond to said growing trend.
Passbox is a device that provides very high air purity and allows the transfer of objects through different environments without pollution. Air purity is connected to the passbox workspace, and it is achieved by optional filtration of recirculation air within the device itself. The most important advantage is the reduction of handling routes through a clean room. Moreover, there is also a significant reduction of stress on the ventilation system as the loss of the pressure created by opening the door is prevented.

Passbox types:
Passive
– a simple passbox without air filtration
Semi-active
– a passbox with a built-in HEPA filter, connected to the facility's HVAC system
Active
– a passbox with a built-in ventilation system for air recirculation inside the work area

Optional equipment:
LED lighting
UV disinfection lamp in the work area
magnetic door lock
Great attention is paid to maintaining the safety of both the operator and the work process. Thus, by creating a design that allows easy cleaning and maintenance of the device through built-in components with all the necessary European certificates that meet pharmaceutical requirements, as well as ensuring the ergonomics of the device, we have put great effort and knowledge in the production of this device.
The development of the device was followed by a series of tests in an accredited laboratory, as well as a series of tests in the laboratory of Klimaoprema's Research and Development Department. An external laboratory tested the electrical and mechanical safety of the device, as well as the safety pertaining to electromagnetic interference. The internal laboratory undertook the testing of the permeability of the door under high pressure, as well as of the durability of the installed equipment in case of a large number of manipulations (cyclic test), and of the quality of the design by testing the working space under load, simulating normal working conditions.

Working principles
When placing an item in the passage in order to transfer it to another space, the operator should open the passage door. This procedure locks the passage door in the other space (the space into which the medium is transferred). When the operator closes the passage door, that door locks, and the door on the opposite side unlocks. The operator in the other room can open the passage door and pick up the item from the adjacent room.
The passbox is designed based on the user's needs (series PB 600, PB 750, PB 900).
Technical characteristics
The structure is made of brushed stainless steel AISI 304 (if requested, it is possible to use polished steel / plasticized sheet metal) designed for operation in a clean space and with a reliable resistance to environmental influences.
The working space is made of brushed stainless steel AISI 304, and its edges are rounded, which makes the working space easy to clean and maintain (if requested, it is possible to use the stainless steel that is more resistant to external influences – AISI 316).
Door with thermally reinforced 10 mm thick glass
Sensors located in the door lock
All electrical components are certified by accredited European laboratories
Siemens control unit
FDA certified silicone door seal