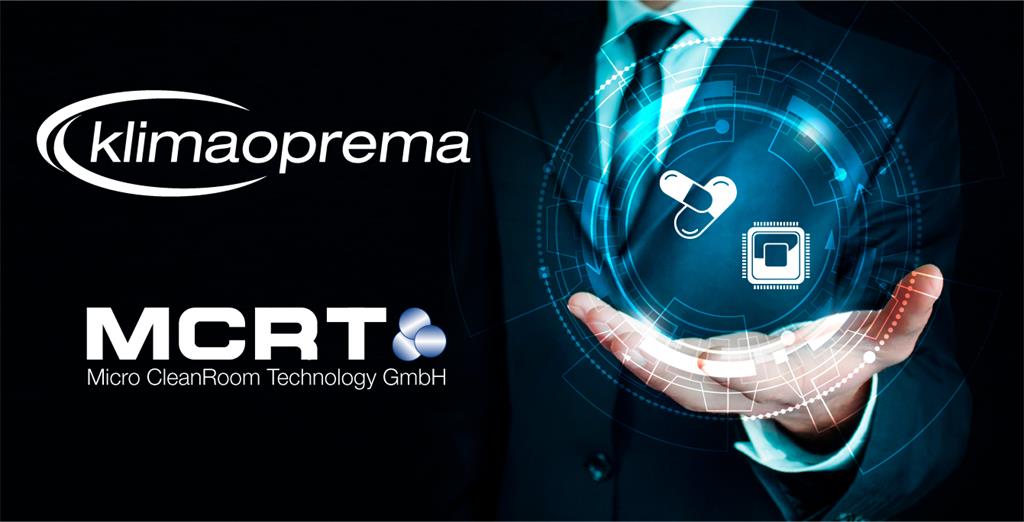 To reaffirm our strong commitment to continuous growth, investment in research and development, and the realization of Klimaoprema's vision as a top technology company, we have acquired the renowned German company MCRT. It is a company that has been in business for the last 22 years and which employs 80 top experts in the field of cleanroom technology for the production of microelectronics, one of the most propulsive branches of electronics in the world.
MCRT cooperates with the world's largest manufacturers of optics, microelectronics, and nanotechnology. The company offers a wide range of cleanroom systems, with an emphasis primarily on the design, planning, and production of so-called "mini-environments" for the semiconductor industry. Namely, extremely high requirements for purity are specific to the semiconductor industry, as well as the pharmaceutical and medical technology industry, and MCRT is known for its individual solutions which are present not only in Europe but also the rest of the world.
"With this acquisition, we have reaffirmed our strategic direction for a stronger presence in the field of microelectronics in the most demanding world markets. The acquisition allows us to focus the company on new and innovative projects in the field of cleanroom in Western Europe, where we have been recording growth in business results in the last several years. Since we are already successfully offering turnkey cleanroom solutions for pharmaceutical plants, hospitals, laboratories, this acquisition is a logical step towards an even stronger positioning and strengthening of our strategic position in the European clean space market," the company said.
In the last few years, Klimaoprema has been successfully marketing its solutions on Western European markets. In fact, the company exports almost 90 percent of its products and services. With the acquisition of MCRT, Klimaoprema has gained a larger capacity of top engineering staff, the use of advanced software packages, expansion of the product range and sales capacity, and greater opportunities for new employment. In addition, the acquisition will help with the internationalization of the business and an even better positioning of Klimaoprema in the German market, where it has been building a strong and recognizable brand for years.
Finally, we are proud of yet another great success that the company and all our employees have achieved in times of economic recovery and the Covid-19 pandemic, and we would once again like to thank everyone who contributed with their knowledge and experience to the realization of this acquisition.